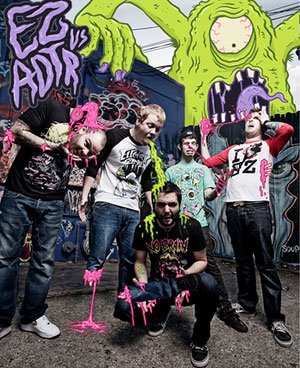 Попробую продолжить инициативу, начатую мной когда-то давно, но никем не поддержаную.
Будем постить тут новости о панк роке и около того, под тэгом "news".
Итак. Модные полу-факеры A Day to Remember оказались на 23 месте чартов ласт.фм
Best of 2009
Нахожу этот факт весьма забавным, особенно учитывая тот факт, что вместе с ними в чарте находятся инди-группы в женских обтягивающих штанах, Ганс энд Роузес и мать их U2!!
Их альбом Homesick был прослушан более 4.5 миллионов раз, почти 400-ми тысячами преданными поклонниками. Такой вот он, панк рок :)
Okay, I'll to continue something I started back at the start of our blog but never get a support from my fellow co-bloggers. I'll continue posting some punk and related news here under tag "news".

So this famous nowadays band A Day to Remember came 23d in Last.fm's chart
Best of 2009
I find this pretty funny escpecially if you'll look closely at the bands they share chart with: so called "indie" bands from major labels, wearing tight-ass girly pants, Guns and Roses and fucking U2!

Their 2009 LP Homesick have been scrobbled 4.6 million times by 374 thousands of loyal fans.

Punk rock as it is :)

AllBlogToolsFacebook comments for blogger brought to you by AllBlogTools.com , Get Yours?